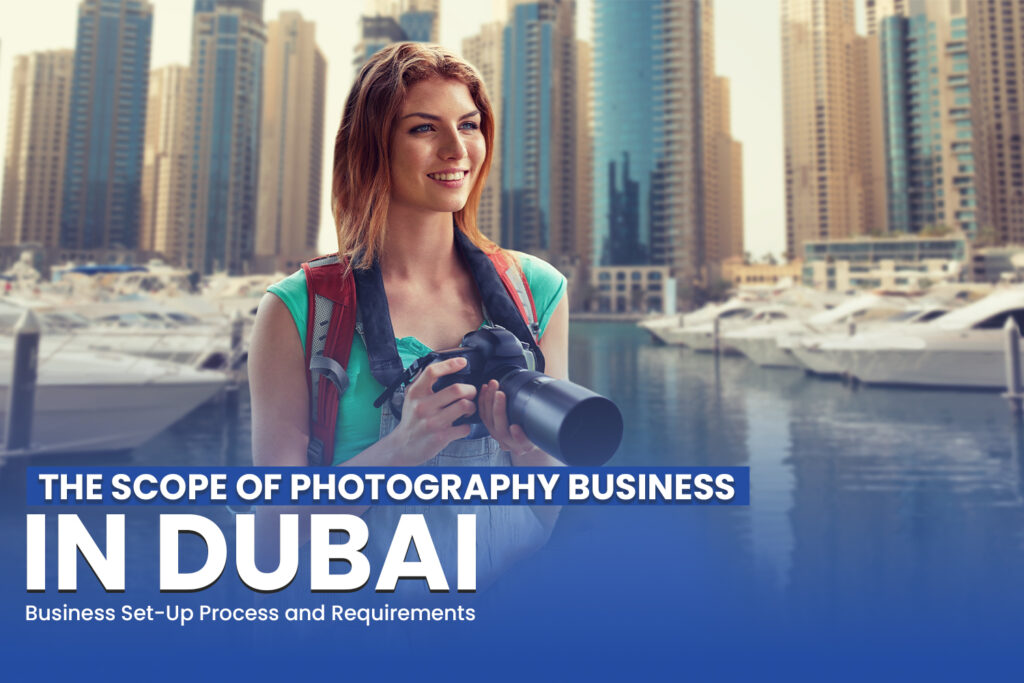 Dubai has some of the world's most eye-catching, modern and photogenic landscapes. Millions of people worldwide choose this place to host ceremonies, business conferences, seminars, weddings, business trips and other commercial and personal gatherings. These types of gatherings and photography often go hand in hand. In this digital age where everything goes on the internet, businesses and the government always need professional photography. So, if you are an aspiring photography professional and want to expand or start your business, Dubai is the perfect place to set up your photography business. Next Generation Corporate Services will assist you with the best Business Setup Services in Dubai and help you establish your photography company in no time.
In this article, we will explore the scope of the photography business in Dubai and learn the process and requirements needed to set up your business.
The Photography Business Market of Dubai –
Several opportunities await your photography business in Dubai. The photography industry in Dubai is booming, with private and government sectors always searching for the best photography company to showcase their endeavours to the world. Following are some of the occasions where a photography company is needed: 
Product Launches:

Many Companies worldwide launch their products in Dubai. Product photography is needed for marketing and promotional purposes.Many such launches take place on the iconic Burj Khalifa and this launch is then photographed and filmed to be posted on social media.
Weddings:

Dubai is known to hold some of the most luxurious weddings in the world. Wedding photography and videography are always in high demand. The beach resorts around Palm Jumeirah, Atlantis and Dubai Marina host exotic destination weddings.
Fashion Shows:

Dubai is the fashion capital of the Middle East region and many events and shows take place during the season. Special fashion photographers are required to capture the the ramps and afterparties
Real Estate Properties:

With launches happening almost every month and a lot of realtors turning to content creation, photographers are putting their camera skills to test on this. This is a great business opportunity for talented photographers.
Cultural Events:

Dubai hosts various cultural festivals and events, such as the Dubai Shopping Festival and Dubai International Film Festival, where event photography to capture celebs and guests is in demand.
The Process of Starting Your Photography Business in Dubai
You need to follow a few steps to Set Up Your Business in Dubai. Next Generation Corporate Services aims to simplify this process and make setting up your business in Dubai easy. Below are the steps to start your photography business in Dubai: 
Name and Location:

Select a name that best describes your photography business and choose the location that will be best for your business. 
Prepare the Documents:

Develop a blueprint of your business and gather photocopies of your passport, visa, and all the other documents needed for obtaining initial approvals.
Get Your License and Permits:

Next Generation Corporate Services will help you with the issuance of your Professional Services License from DED, which is needed to commence your photography business in Dubai. 
Set Up Your Business Bank Account:

You will need a business bank account to facilitate all your financial transactions. We have expertise in providing

Professional Corporate Services

in Dubai and will assist you in opening a business bank account. 
Create a Portfolio for Your Business:

Take your camera and shoot your best snapshots to showcase your professional skills. Collect them and create a portfolio of your photography business. 
To get detailed guidance on setting up a business in Dubai, contact Next Generation Corporate Services. 
Documents Required
Your passport copy

Your resident visa copy (if you have one)

Passport sized photographs with white background
Cost of Setting Up a Photography Business in Dubai
Depending on the location and size of your business, the cost of setting up your photography business in Dubai can vary. The cost of acquiring a photography trade license in Dubai is starts from just AED 5,750. Additionally costs incur if you require a residence visa, virtual office and bank account opening assistance. Next Generation Corporate Services will ensure that you set up a photography business cost-effectively and will help you through every step of the process. 
Start Your Photography Business in Dubai with Next Generation Corporate Services
Setting Up a Photography Business in Dubai can be a great opportunity to showcase your professional photography skills and expand your business. With the help of the best Professional Corporate Services of Next Generation Corporate Services, you can rest assured that the process of setting up your business in Dubai will be smooth and simple. Reach out to us today and get one step closer to your dream.