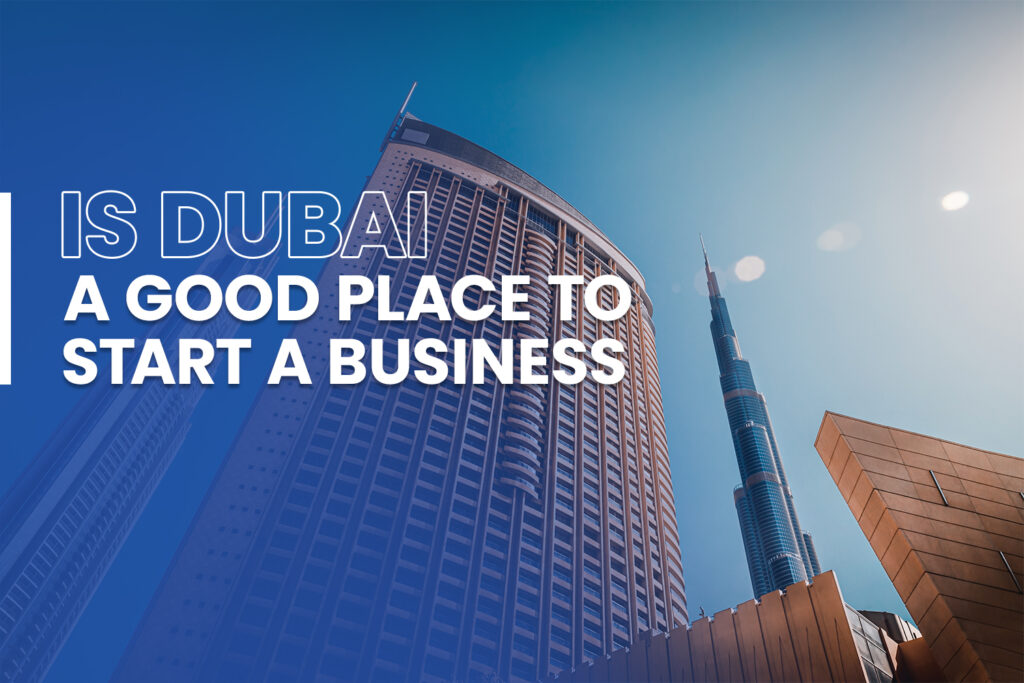 Dubai is a city that is constantly growing and evolving. It is a hub for trade and commerce, and it is home to a diverse range of businesses. This among other factors makes Dubai a very attractive place to start a business. In this blog, we will explore the factors that make Dubai a captivating choice for beginning a business and examine the open doors and difficulties that anticipate hopeful business people in this desert city. 
Dubai's strategic location acts as a gateway to the world. Situated at the crossroads of Europe, Asia, and Africa, the city enjoys proximity to major markets and allows businesses to effortlessly expand their reach to multiple continents. With a world-class port and an international airport that connects over 260 destinations, Dubai offers unmatched accessibility and ease of conducting business across borders. 
Business-Friendly Policies 
One of the most attractive features of Dubai is its business-friendly policies. The government has established various free zones, such as Dubai Multi Commodities Centre (DMCC) and Dubai Internet City (DIC), that offer 100% foreign ownership, personal income tax exemptions, and simplified customs procedures. Additionally, the absence of tax on capital gains and corporate tax in most free zones acts as a significant incentive for entrepreneurs looking to optimize their profits. Meaning you can trade from all over the world from Dubai with 0 rated tax. 
Diverse and Flourishing Market 
Dubai is a vibrant and cosmopolitan city with a diverse population representing more than 200 nationalities. This diversity creates a melting pot of ideas and consumer preferences, making it an ideal testbed for innovation. Moreover, the city's affluent population, including a large expatriate community, contributes to a strong purchasing power and a robust market for luxury goods and services. 
Infrastructure and Connectivity 
Dubai's commitment to developing world-class infrastructure is evident through its awe-inspiring skyscrapers, modern transportation systems, and cutting-edge communication networks. This well-established infrastructure enhances the ease of doing business, ensuring smooth logistics, and efficient operations. 
The Government of Dubai actively encourages entrepreneurship and offers comprehensive support through various initiatives, accelerators, and incubators. Organizations like Dubai Chamber of Commerce and Industry and Dubai SME provide resources, mentorship, and networking opportunities to help startups and small businesses thrive. The city's forward-looking outlook fosters innovation and attracts investors seeking promising ventures. 
Challenges to Consider 
While Dubai undoubtedly offers a promising environment for entrepreneurs, it's essential to be aware of the challenges that may come with starting a business in the city: 
High Competition: Dubai's popularity as a business destination has attracted entrepreneurs from all over the world in almost all industries. Standing out in a crowded market may require a unique value proposition and a well-defined business strategy.

 

Cultural Sensitivity: Dubai is a Muslim-majority city with its set of cultural norms and values. Entrepreneurs must be mindful of local customs and regulations when conducting business to build strong and lasting relationships.

 

Costs: Although there are no taxes in Dubai, the cost of doing business may be overwhelming for entrepreneurs who may starting up small. Careful financial planning is of key importance.

 
All in all, Dubai's rise as an economic powerhouse has been nothing short of remarkable, making it a top destination for aspiring entrepreneurs. With its strategic location, business-friendly policies, diverse market, and robust infrastructure, Dubai offers an enticing ecosystem for startups and established companies alike. However, entrepreneurs should thoroughly research the market, understand the cultural landscape, and be prepared to face challenges to succeed in this dynamic and thriving oasis of business opportunity.