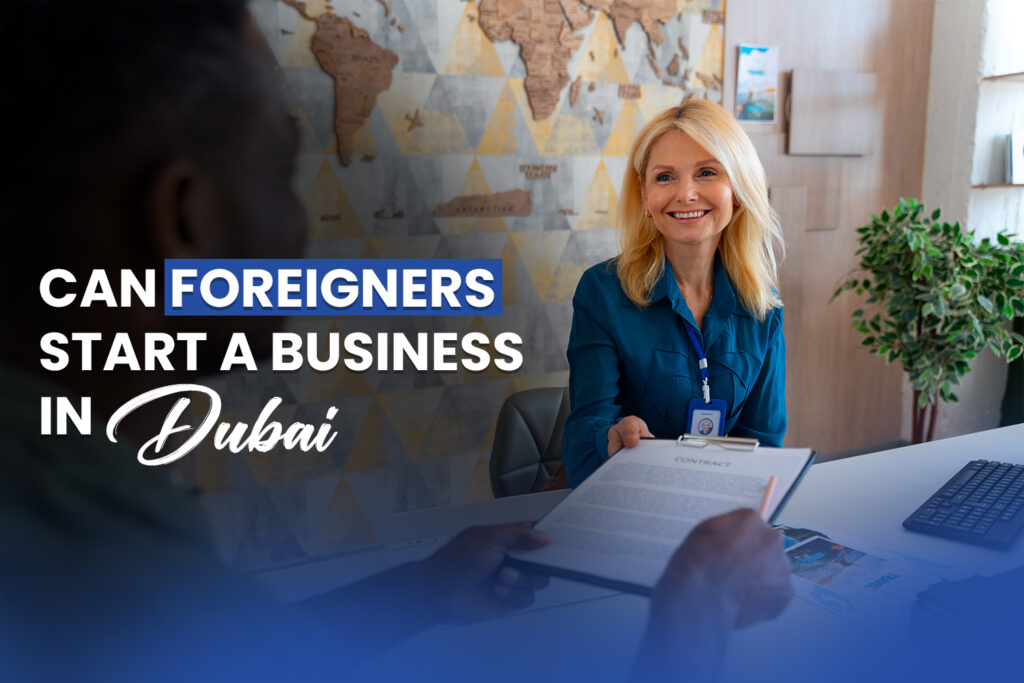 Dubai's emergence as a global business hub has piqued the interest of entrepreneurs worldwide. This dynamic city in the United Arab Emirates (UAE) presents a plethora of opportunities, prompting many foreigners to wonder if they can tap into this vibrant market and start their ventures in the desert metropolis. In this blog, we will explore the regulations and opportunities that govern foreign ownership of businesses in Dubai. 
The Business Landscape for Foreigners

 
Dubai has a welcoming and business-friendly environment that encourages foreign investment. As per the UAE's Federal Law No. 2 of 2015, commonly known as the Commercial Companies Law, foreigners are allowed to own businesses in Dubai through various structures. However, the level of foreign ownership and business setup options depend on the location and nature of the enterprise. 
Free Zones: The Attractive Option

 
One of the most popular routes for foreigners to start a business in Dubai is by setting up within one of the city's numerous free zones. These free zones, such as Dubai Multi Commodities Centre (DMCC), Dubai Internet City (DIC), and Dubai Media City (DMC), offer several advantages to foreign investors: 
100% Foreign Ownership: In free zones, foreign investors can retain complete ownership of their businesses, allowing them to make crucial decisions without local sponsorship.

Tax Exemptions: Free zone businesses are granted tax exemptions for a specific number of years, which contributes to higher profit margins.

Repatriation of Profits: Foreign business owners can fully repatriate their profits back to their home country without any restrictions.

Simplified Regulations: Setting up a business in free zones is generally faster and more straightforward due to streamlined bureaucratic processes.
Mainland Companies: Local Partnership Required

 
While free zones offer considerable flexibility to foreign entrepreneurs, they are not suitable for all business types or markets. Certain activities, like retail and hospitality, necessitate a mainland company setup. In the mainland, however, a local partner (UAE national) is mandatory to own a majority share of the business (51% or more). This arrangement is governed by a partnership agreement that specifies the profit-sharing and operational roles of both parties. 
Professional Licenses: 100% Ownership for Certain Professions

 
For professionals looking to provide services such as consultancy, legal, or medical services, Dubai offers a Professional License option. Under this license, individuals can own 100% of their business without the need for a local partner. However, it is essential to note that this license is limited to specific professions and does not cover trading or manufacturing activities. 
Before diving into the business setup process, it is crucial for foreign entrepreneurs to conduct thorough research and seek professional advice. Understanding the legal requirements, market demands, and cultural nuances will lay a strong foundation for success. Engaging with business consultants or legal experts who specialize in Dubai's regulations can help streamline the process and ensure compliance with local laws. 
Conclusion 
Dubai stands as a beacon of opportunity, attracting entrepreneurs from all corners of the globe with its thriving economy, strategic location, and supportive business ecosystem. Thankfully, foreign investors can indeed establish businesses in Dubai through free zone setups, mainland partnerships, or professional licenses, with the assistance of Next Generation Corporate Services. Each option comes with its benefits and limitations, so entrepreneurs must carefully evaluate their business goals and preferences. 
Dubai's alluring blend of innovation, cultural diversity, and forward-thinking policies, coupled with the expertise provided by Next Generation Corporate Services, continues to make it an ideal destination for foreign investors seeking to carve their path in this bustling oasis of business possibilities. With the right preparation, research, and determination, foreign entrepreneurs can unlock the vast potential Dubai has to offer and embark on a rewarding business journey in this global Downtown.