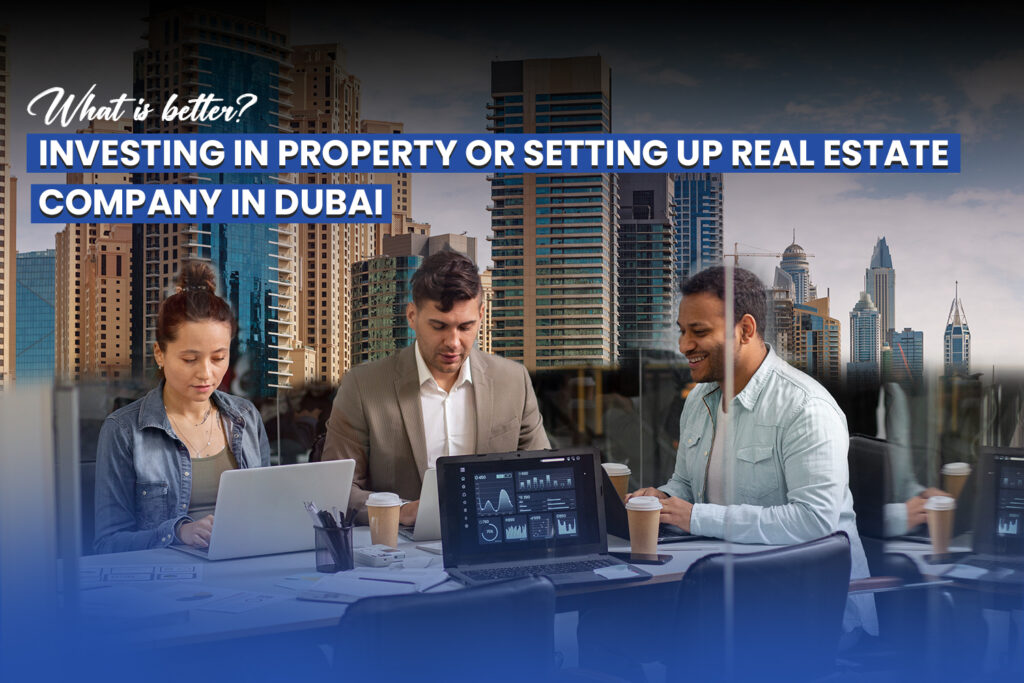 Dubai's impressive record of high investment returns has long enticed investors from all around the world. Major corporations including financial institutions are reporting growing profits, a testament to the strong economy of Dubai. With these reports and stats, you might consider investing in this spectacular economy. Before you can proceed, it is important to consider some factors that could impact your investments. This blog by Next Generation Corporate Service can assess what type of investment will be better for you, investing in real estate properties or setting up a business in Dubai.   
The Real Estate Industry in Dubai: Investing in Properties  
Real estate is one of the most prominent sectors that is contributing to the UAE's growing economy, accounting for 5.5% of the total GDP. With an increasing population of 3.61 million and new real estate business setups in Dubai, the market is buzzing with real estate properties and buyers. In the second quarter of 2023, Dubai has seen an incredible 38% surge in off-plan property sales. Considering these facts and figures, investing in properties seems like one of the most lucrative investment opportunities in Dubai.   
But before investing in properties in Dubai, you need to have a comprehensive understanding of Dubai's real estate industry, and proper market research is needed to avoid getting into any investment project that may not meet your expectations and finally find the perfect time to invest. Investing in properties in Dubai requires a very delicate understanding, and one wrong decision can put a hold on your investments. Apart from that, investing in properties in Dubai can be a profitable investment.  
The Business Landscape of Dubai: Setting up a Business in Dubai  
In recent years, Dubai has seen a significant increase in the number of new Business License Registrations. In 2021, DED issued a total of 72,152 business licenses, a 69% increase from the previous year, which was 42,729. In the first half of 2022, there was a 25% increase compared to 2021 first half. This upward trend of new business license registration shows no signs of stopping, which indicates a healthy business landscape in Dubai.  
Dubai is known to develop strategies favouring all types of businesses, specially focusing on small and mid-sized companies. Small and Medium-Sized Enterprises (SMEs) in Dubai account for about 95% of all companies, employing 42% of the workforce and contributing 40% to the GDP of Dubai. Dubai realised the importance of setting up new businesses in Dubai and has taken many initiatives to promote the setup of SMEs in the country. The government plans to build a Small and Medium Enterprises scale-up program as one of the 10 transformational projects for this decade by identifying 400 high-potential enterprises, assisting their capacity building, and promoting their worldwide growth. Considering these statistics and risk involvement factors, it is safe to say that setting up a Business in Dubai will offer you many different opportunities to scale up your investments than investing in properties in Dubai.   
Set Up Your Business with Next Generation Corporate Services  
There are endless business opportunities, whether you are considering setting up professional services or a product-based business in Dubai. But if you are unsure about the legal framework and paperwork involved in setting up a business in Dubai, don't worry; Next Generation Corporate Services will handle all your business license registration requirements and guide you throughout your business setup process in Dubai with its best Professional Corporate Services. Contact us today and fulfil your dream of starting a business in Dubai.