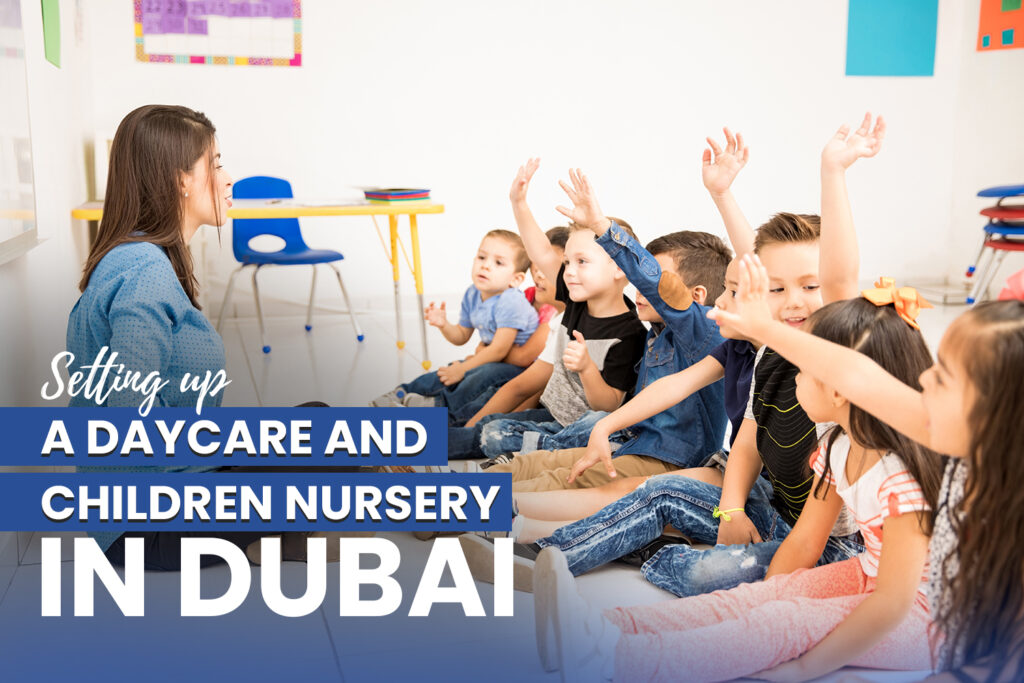 Setting up a business in Dubai can be an exciting and rewarding venture, especially in the childcare industry. With the increasing number of working parents in the UAE and growing population of Dubai, the demand for daycare centers and children nurseries is on the rise. If you are considering starting a childcare business in Dubai, We, Next Generation Corporate Services, the leading Professional Corporate Service Provider in Dubai, will provide you with all the information you need to Set up a Daycare and Children's Nursery in Dubai successfully. 
Why Choose Dubai for Your Childcare Business and How to Set It Up in Dubai? 
Dubai is a prosperous city with a rapidly growing economy and a diverse population. The government's efforts to encourage women to join the workforce have created a significant demand for childcare services. By starting a childcare business in Dubai, you can tap into this growing market and provide a valuable service to working families. Below are the steps to Set up your Daycare and Children's Nursery in Dubai:  
Step 1: Market Research & Business Plan  
Before diving into the process of setting up your childcare business in Dubai, it is essential to create a comprehensive business plan with thorough market research. Your business plan will help you understand the dynamic market of Dubai as well as create a business that fits well with the local population. A well-structured and thought-out business plan will not only guide you through the process but also attract potential investors or partners. It is also a requirement of the Knowledge and Human Development Authority (KHDA), the governing body for educational institutes in Dubai.  
Step 2: Selecting Location  
The location of your childcare center is crucial to its success. When drafting your business plan, you will conduct some market research which will pinpoint you in the right direction for the ideal location. Working parents value convenience and accessibility, so it is essential to choose a location that is easily accessible and located in a residential area with good transportation options.   
Step 3: Trade License and Permits  
Setting up a childcare business in Dubai requires obtaining the appropriate licenses and certifications from various government authorities. You will need to apply for a trade license from the relevant authority, such as the Department of Economic Development (DED) or a free zone authority, depending on the location of your business.  
Additionally, you will need to obtain approvals and permits from the municipality, the Knowledge and Human Development Authority (KHDA), the Civil Defense, and the Public Health Department. These approvals ensure that your childcare center meets all safety, health, and educational requirements dealing with the little ones.  
Navigating the licensing process can be complex, Next Generation Corporate Services, being one of the Best Professional Corporate Service Providers in Dubai, can handle the process efficiently for you and ensure compliance with all regulations.   
Step 4: Equip Your Childcare Center  
To provide a safe and nurturing environment for children, you will need to equip your childcare center with the necessary resources and facilities. This includes age-appropriate toys, books, educational materials, furniture, playground equipment, and safety measures such as CCTV cameras and childproofing measures.  
Investing in high-quality equipment and resources will not only ensure the safety and well-being of the children but also attract parents seeking reliable and well-equipped childcare centers.  
Step 5: Hire Qualified Staff  
The childcare business in Dubai is a regulated activity and all businesses need to hire qualified and certified professionals and a plus who are passionate about working with children. Conduct thorough interviews, background checks, and reference checks to ensure that your staff members have the necessary qualifications, experience, and a genuine love for children.  
Consider offering training and professional development opportunities to your staff to enhance their skills and knowledge in childcare. Building a strong and capable team will not only provide a high standard of care for the children but also instill confidence in parents.  
Additional Services: Next Generation Corporate Services  
At Next Generation Corporate Services, we understand the intricacies of Setting up a Business in Dubai. Our team of expert professionals has years of experience in assisting clients with Company Registration and Business Setup in Dubai. We offer a wide range of services, including go-to-market studies, licensing options, corporate bank account setup, tax advisory, immigration services, Professional Corporate Services and more.  
Our comprehensive approach ensures a smooth and hassle-free process, allowing you to focus on your core business operations. With our expertise and guidance, you can confidently navigate the complexities of the Dubai business landscape and establish a successful daycare and children's nursery in Dubai.  
Embark on your journey to business success in Dubai today and make a positive impact on the lives of working parents and their children. Contact Next Generation Corporate Services to learn more about how we can support you in your business setup in Dubai.