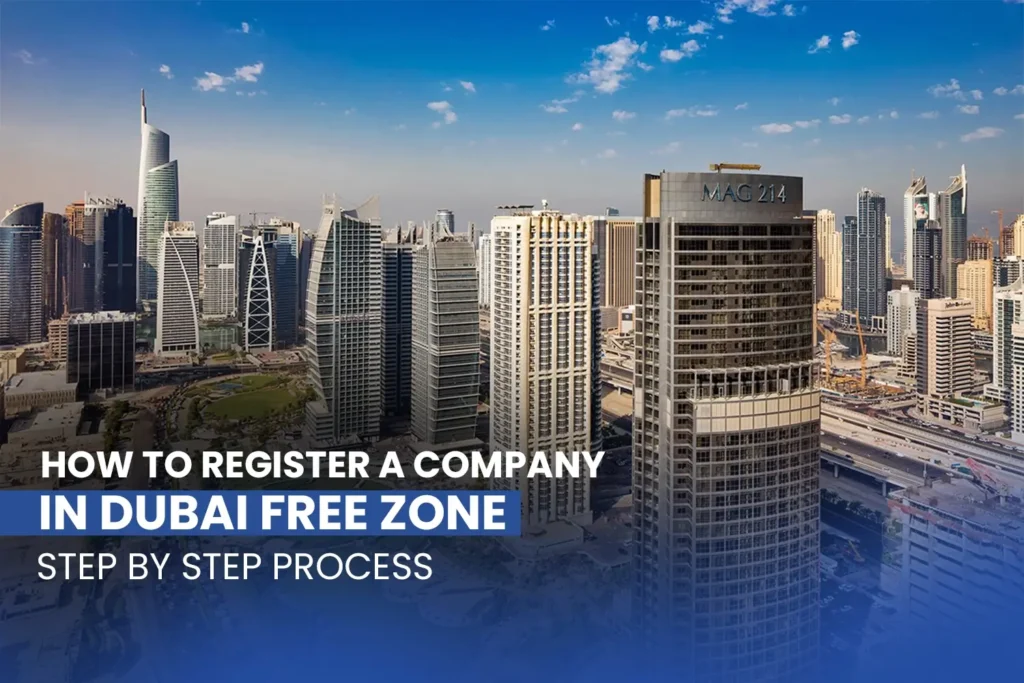 Dubai has emerged as a thriving global business hub. Renowned for its strategic location, state-of-the-art infrastructure, and policies that support businesses, this dynamic city offers entrepreneurs and investors a wide range of opportunities. One of the key opportunities for establishing a business in Dubai is through its free zones, which have garnered immense popularity over the years. These free zones provide a unique environment that boost economic growth, offer numerous benefits such as 100% foreign ownership, tax incentives, simplified company registration processes, and access to world-class infrastructure.  
If you're an aspiring entrepreneur looking to take advantage of Dubai's business-friendly ecosystem, this comprehensive guide will navigate you through the process of registering a company in a Dubai free zone. 
Step 1: Research and Select the Ideal Free Zone 
Dubai has a diverse range of free zones, each catering to a unique industry or area. The first step is to perform extensive research and pick the free zone that best matches your company activity and needs. Whether you're interested in technology, journalism, healthcare, or any other industry, there's almost certainly a free zone that will meet your requirements.  This mindful decision will lay the groundwork for prosperous business operations.   
Step 2: Determine Your Business Activity and Legal Structure 
Before proceeding with the registration process, it's essential to determine the specific business activity you want to engage in. Different free zones have specific regulations and licenses for various activities, so ensure that the chosen free zone permits the desired business activity. Additionally, select the appropriate legal structure for your company, whether it's a Free Zone Establishment (FZE), Free Zone Company (FZC), or a branch of an existing company. Understanding these aspects will help you navigate the registration process smoothly. 
Step 3: Selecting a Distinctive and Unique Company Name 
Choosing a unique and memorable name for your company is a critical step. Dubai's free zones have specific guidelines regarding company names, including restrictions on certain words and requirements for name availability. Your company name plays a vital role in branding and creating a lasting impression, so invest time and creativity into selecting a distinctive name that reflects your business vision. 
Step 4: License Application and Documentation 
Once you've chosen the free zone and determined your business activity, it's time to gather the necessary documents for the license application. Typical requirements include completed application forms provided by the free zone, passport copies of shareholders and directors, a comprehensive business plan outlining your objectives and financial projections, and a No Objection Certificate (NOC) from the current sponsor if you are establishing a branch company. Ensuring that all documentation is in order will expedite the registration process. A corporate service provider like Next Generation Corporate Services will help you to assemble all the required documents and approvals for your business set up in Dubai. 
Step 5: Office Space Selection 
Most free zones require businesses to have a physical presence within their specific jurisdiction.  Free zones often offer a range of flexible options, from shared offices to private office spaces, enabling you to find the perfect setting for your operations. A trusted corporate service provider can also help you find an office space for your company set up in Dubai Free Zone. 
Step 6: Company Registration and Finalization 
With all the documentation in place and an office space secured, it's time to submit your license application and relevant documents to the free zone authority. Upon approval, you will need to sign the necessary documents and pay the applicable fees, including license fees, registration fees, and office space rent. This final step completes the company registration process, paving the way for your business to flourish within Dubai's vibrant economy. 
Taking care of documentation and government processes can be a difficult task to handle, especially if you have no prior experience and knowledge. That is precisely why it is important to look for expert guidance with a company like Next Generation Corporate Services. Their experienced team of professionals will take care of your business set up in Dubai Freezones entirely. 
Registering a company in a Dubai free zone opens doors to boundless opportunities and allows you to leverage Dubai's strategic advantages for business growth. Whether you're a budding entrepreneur or an established business looking to expand, Dubai's free zones provide an exceptional platform to thrive and succeed in today's global marketplace. Embrace the journey of establishing your company in a Dubai free zone and unlock a world of possibilities.